If you are looking for the world's best Face Shields, Face Mask, Safety Mask, Welding Helmets, Paintball Mask, Air Soft Mask, Military Training Mask, Boating Mask, Sport Utility Mask for ATV's, Boats, Motorcycles, Sand Rails, Snow boarding, Snow Skiing, Snow Mobiling, you have come to the right place.
We ARE the world leader in face protection and if we don't already make it, we can get'er done. Click on one of the below and get ready for Phace protection like you've never experienced before!!!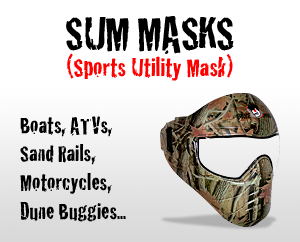 Introducing the World's 1st and ONLY SUM (Sports Utility Mask). No more watery eyes, frigid face, runny nose, flapping cheeks or the ringing in your ears from the cold howling wind as you are hauling ass! OR the sudden extreme pain from hitting a June Bug at 50+ mph. OR the agonizing, blinding, about knocked you off your Motorcycle, PAIN from that rock the truck in front of you just kicked up! Fits 98% of the population.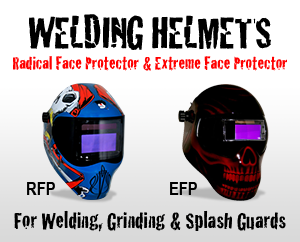 NO other welding helmet in the WORLD comes close to the features, benefits, quality for the price! And you will be SHOCKED at our price! It is the ONLY welding helmet in the world with 180degree lens design offering you ear to ear vision when u r welding!
That's right we said it…EAR to EAR Vision. I'll stop right here and let your mind catch up….
Call 1-844-393-4844 or fill out form below